Hitek develops products that you will not find anywhere else. They are credible and unique engineering findings for product development purposes; for example, Stainless Steel Kinematic Components.

Hitek also offers you a complete spectrum of engineering services, extensive background experiences, as well as technical expertise. Please browse our site and if you have any questions, call 413.967.0177 and ask for Reggie.
Our unique products are updated frequently so please check back often.
New Products & Breaking News
New Product Announcement: Precision Adjustment Screw with Drive Shaft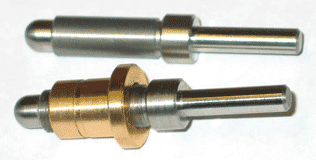 This precison ball ended adjustment screw was custom designed and manufactured for Las Cumbres Observatory. The screws were used with stepper motors to drive precision locating focusing stages. Seventy five of these screws, PS312-80-14-DS, with matching theaded collets, PS312-80-C were ordered. Las Cumbres Observatory Global Telescope Network is a private operating foundation, building a global network of telescopes for scientific research and research-based education.
This part is now a standard component available at Hitek Hardware, Inc.- Click here to order.
Kasalis Uses Hitek Hardware in Signature PixidTM 300 Line

Kasalis Inc. recently released its Pixid 300 line of fully automated camera module assembly and test systems, featuring active alignment, to assemble precision camera modules.The Pixid 300 Pro and Pixid 300 Test models both use components from Hitek Hardware to create kinematic couplings, allowing for interchangeable camera fixtures to be removed and repeatably reloaded while maintaining mechanical reference to the machine See More.